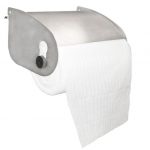 Engangs mop til alle typer gulve
Meget effektiv og hurtig fjernelse af støv, hår, og snavs i øvrigt.
The mop consists of 3 layers: a special perforated polyester wipe against the floor, a dirt-absorbent middle layer and a final barrier to the feeder. The system results in a very effective cleaning, the dirt gets sucked up into the mop and leaves the surface clean and streak free. Due to a controlled release and reabsorption of cleaning liquid the drying out time is also very short.  The unique design ofthe mop makes it suitable to  be used for non-slip surfaces, where high friction is normally a problem.
This section contains documentation that our disposable wipes deliver on our promise. This page contains a collection of articles, test results, data sheets, CEI statements, safety data sheets etc.
100% polyester påført elastomer baseret klæbestof.
60.0 g/m2
Dust mop kludene leveres i ruller af 25 stk. der er perforeret. Størrelsen på hver enkelt mop er 60 × 20 cm. og passer dermed perfekt til gængse fremførere.
Den enkelte dust mop placeres på gulvet hvorefter fremfører opsamler moppen UDEN man skal bukke sig for at fastgøre den.
Man kan med engangs dust mop kluden rengøre et meget stort areal på meget kort tid, og fjerne støv,hår, og andet snavs langt hurtigere og meget mere effektivt end f.eks. støvsugning.
Product information
Product no. 70573: Dust Mop
1 package contains 25 mops, 60×20 cm
Accessories
It is possible to buy feeder and sole as acquisitions for this product.